Our work on sport-for-development initiatives has resulted in wide range of professional reports and academic publications.
Books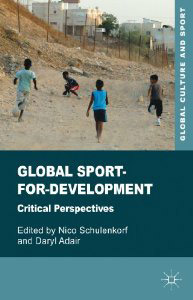 Schulenkorf, N. and Adair, D. (eds) (2014), Global Sport-for-Development: Critical Perspectives. Basingstoke: Palgrave Macmillan. 280 pages. ISBN: 978-1-137-28962-9

In recent years, sport has been used as an instrument through which wider development objectives are pursued. This includes sport as a means to create awareness about the risks of HIV; sport as a vehicle to counter inter-group hostility; and sport as an environment where children can find respite in the wake of military conflict. The use of sport for the purposes of development is neither simple nor inherently successful. It is therefore regrettable that some of the agents and organisations involved in development programs provide idealistic accounts of their activities, thus suggesting that field work is unproblematic. By contrast, this book provides a critical approach to sport-for-development, acknowledging the potential of this growing field but emphasising challenges, problems and limitations – particularly if programs are not adequately planned, delivered or monitored. The book features both critical theory and reflective praxis, and will thus be useful to both academics and practitioners.
Link to the book on Amazon: Global Sport-for-Development: Critical Perspectives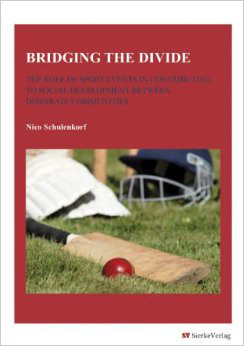 Schulenkorf, N. (2010), Bridging the Divide: The Role of Sport Events in Contributing to Social Development Between Disparate Communities. Göttingen: Sierke Verlag. 326 pages. ISBN: 978-3-86844-278-6
This monograph investigates the role of sport events in contributing to social development between disparate communities in a developing world context. Using the war-torn Sri Lanka as a case study, it explores the socio-cultural experiences that arise from inter-community sport events; how social identities and group categorisations are impacted; the roles and responsibilities of a change agent in facilitating community development projects; and the opportunities for sustaining and leveraging positive intergroup relations beyond sport-for-development events.
Link to the book on Amazon: Bridging the Divide
Journal Articles
Siefken, K., Schofield, G. and Schulenkorf, N. (2014), "Laefstael jenses: An investigation of barriers and facilitators for healthy lifestyles of women in an urban Pacific island context", Journal of Physical Activity & Health, 11(1), 30-37
Khoo, C., Schulenkorf, N. and Adair, D. (2014): "The opportunities and challenges of using cricket as a sport-for-development tool in Samoa", Cosmopolitan Civil Societies Journal, 6(1), 76-102
Free online copy
Schulenkorf, N. and Adair, D. (2013), "Temporality, transience and regularity in sport-for-development: synchronizing programs with events", Journal of Policy Research in Tourism, Leisure and Events, 5(1), 99-104
Schulenkorf, N. (2013), "Sport-for-Development Events and Social Capital Building: A Critical Analysis of Experiences from Sri Lanka", Journal of Sport for Development, 1(1), 25-3
Schulenkorf, N. and Edwards, D. (2012), "Maximizing Positive Social Impacts: Strategies for Sustaining and Leveraging the Benefits of Inter-Community Sport Events in Divided Societies", Journal of Sport Management, 26(5), 379-390
Schulenkorf, N. (2012), "Sustainable Community Development through Sport and Events: A Conceptual Framework for Sport-for-Development Projects", Sport Management Review, 15(1), 1-12
Schulenkorf, N. and Sugden, J. (2011), "Sport for Development and Peace in Divided Societies – Cooperating for Inter-Community Empowerment in Israel", European Journal for Sport and Society, 8(4), 235-256 Free online copy
Schulenkorf, N., Thomson, A. and Schlenker, K. (2011), "Intercommunity Sport Events: Vehicles and Catalysts for Social Capital in Divided Societies", Event Management, 15(2), 105-119
Schulenkorf, N. (2010), "Sport events and ethnic reconciliation: attempting to create social change between Sinhalese, Tamil and Muslim sportspeople in war-torn Sri Lanka", International Review for the Sociology of Sport, 45(3), 273-294
Schulenkorf, N. (2010), "The roles and responsibilities of a change agent in sport event development projects", Sport Management Review, 13(3), 118-128